'Viva Colaba', an initiative to reform and clean the densely populated neighborhood of Colaba (Mumbai, India)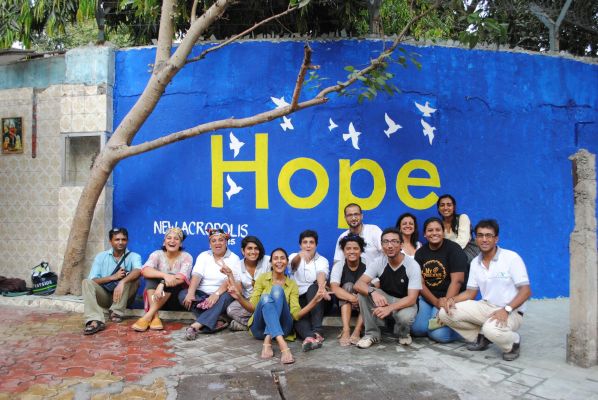 Members from the New Acropolis Center in Mumbai participated in a beautification drive, a community service project carried out in the bustling Colaba neighborhood of Mumbai. The project titled
Viva Colaba
was organized by the volunteering and ecology department of the New Acropolis center in Mumbai in conjunction with the local municipal authorities (BMC).
The team identified a much neglected busy corner in the vicinity of the New Acropolis Mumbai Center close to a garbage dump. The project involved improving the aesthetics of the corner through wall painting to making the corner more visually engaging. At the same time, this was intended to deter littering, dumping and dirtying of the space.
A 40 foot wall was painted by volunteers and designed with a graphic message that said 'Hope'. There was a great spirit of volunteering in spite of the sweltering summer heat. The project was completed as planned, resulting in a cleaner, neater, more aesthetic corner in our neighborhood!