Workshop: The path of Tibetan concentration (San Salvador, El Salvador)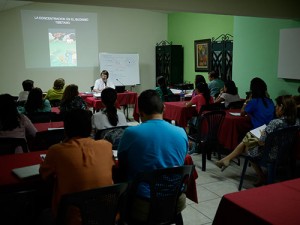 'The way of Tibetan concentration', workshop taught by the writer and lecturer Laura Winckler, who presented the benefits of concentration practices as tools that make it easier for us to overcome difficulties without repression or violence.
Practicing concentration awakens our inner life and helps us better manage ourselves. It prepares us to cross through with boldness and balance our physical, emotional and mental areas of confusion and dispersion, allowing us to attain clarity and lucidity about ourselves and our environment. This workshop was based on energetic, breathing and mental practices drawn from the tradition of Tibetan Buddhism.