Campaign of oral health education and celebration of Children's Day (Trujillo, Peru)
More than 100 children of the Las Palmeras AAHH – located in the district La Esperanza – enjoyed the celebration of Children's Day, organized by New Acropolis Trujillo.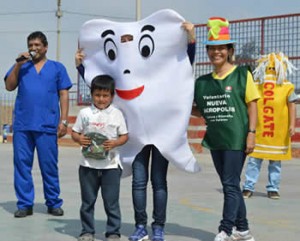 The activity began with an educational talk on oral health, led by Dr. Percy Arévalo, who gave the children practical advice to maintain good oral hygiene. At the end of the event, New Acropolis volunteers handed out to each child dental packages (toothbrush and toothpaste), courtesy of Colgate.
As part of the celebration, the children enjoyed a children's show with dances and games, and had fun with the toys and snacks they received. The celebration ended with the play The Animals of the Sea that was specially prepared for the occasion.