Celebration of International Music Day in the central library of the city (Zagreb, Croatia)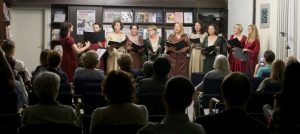 International Music Day was marked in Zagreb, Croatia with the performance of the New Acropolis choir "Enodia" in the central City Library. With this event New Acropolis joined this great UNESCO initiative started in 1975, with the aim of promoting music as a universal arts form and value belonging to all people.
Through the program entitled "On the wings of music" the audience was presented with a selection of seven musical pieces. The performance of the choir was preceded by a short lecture on the mythical and historical beginnings of music, on Muses as an eternal inspiration, on Pythagoras's essential ideas of harmony and the importance of music for the ennoblement of the human inner being.