New Acropolis participated in the Union of International Associations Conference (South Korea)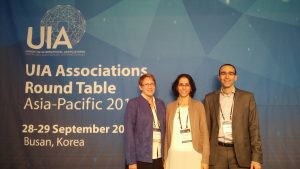 New Acropolis South Korea participated in the UIA (Union of International Associations) Conference, wwe.uia.org, held in Busan, South Korea.
Several associations and organizations representing various fields participated and shared their experiences.
Among the issues that were presented and discussed: the use of technology as a driver of growth and commitment, the challenges of starting an organization and retaining members, the challenge of remaining relevant, etc. The talks and discussions were very fruitful and relevant for all participants.