New Acropolis promotes the knowledge of the Iberian-Roman city of Castulo (Jaen, Spain)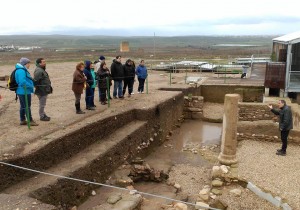 New Acropolis Jaén continues fostering the initiative to promote the rich historical and artistic heritage of the Jaén province.
On this occasion New Acropolis organized a guided visit to the Iberian-Roman city of Castulo at the hands of Marcelo Castro, the director of this archaeological site, whose discoveries have been of great importance, such as the 'Mosaic of Los Amores', or the building of one of the oldest Christian communities in the peninsula.
New Acropolis has been collaborating on projects involving the archaeological site of Castulo, not only for the development of these guided visits to promote its historical importance, but also as a volunteer organization that helps specialists in archaeological excavations.