Night of Houses of Culture (Budapest, Hungary)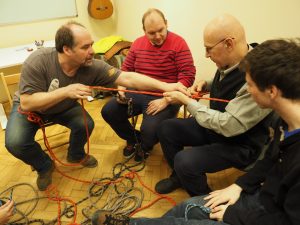 For the second year, New Acropolis participated in the Night of the Houses of Culture, a series of programmes organized with the aim of promoting the activities of cultural institutions. Held in Budapest, the evening-long event at New Acropolis was titled "Small Steps for Man" and comprised three parts.
First, a talk about Tibetan mandalas as symbols of completeness titled ""One Step Toward Ourselves"".
The second part, titled ""One Step Toward Others"", focused on volunteering and offered an opportunity for participants to try various team-building activities.
During the third part, titled ""One Step Toward Harmony" ", participants could get acquainted with different instruments with the help of professional musicians. The night ended with Hungarian and Irish folk dances.