Nourishing mouths, hearts and spirits (South Africa)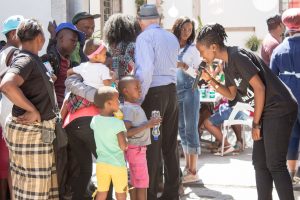 New Acropolis South Africa organized a volunteer event aimed at restoring a touch of dignity to the lives of the homeless individuals living in the Johannesburg CBD.
A 'pop-up' restaurant was set up in the Maboneng district, and appeals went out to the community for donations of food, sanitary pads, and volunteers to staff the restaurant on this day.
The response of the community was overwhelming. The City of Johannesburg Social Development Department supported the initiative by capturing statistics, as there are an estimated 10 000 homeless people moving through Johannesburg monthly. The Department of Health set up a mobile clinic and distributed sanitary pads, provided basic health care services, and conducted HIV and TB screenings.
Many people collaborated on this event, with local performing artists providing live entertainment, and a local radio station broadcasted from the event. Tshwane Security Services generously provided security guards for the day – to make sure everyone was safe.
Achievements of the day included:
Donations of food from local businesses and private individuals in the area to feed more than 200 homeless people on this day.
Approximately 70 volunteers from within New Acropolis and the community stepped up to staff the restaurant, cook, and provide care for the homeless.
Sorbet-Man provided haircuts & shaves for 120 homeless people.
Approximately 160 homeless people received basic health care, screening and psycho-education for HIV and tuberculosis.
Over 2000 sanitary pads were distributed to homeless ladies attending the event – this was a key win, as the cost of one pack of sanitary pads in Johannesburg is approximately equivalent to 4 nights accommodation in a homeless shelter.