World Philosophy Day (Croatia)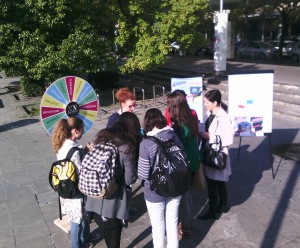 New Acropolis celebrated the World Philosophy Day in the city of Podgorica (Republic of Montenegro). A group of volunteers from neighboring Croatia set up an information stand in the main square of the city.
The citizens of Podgorica showed a lot of interest in the Wheel of Virtues and around a hundred people who had the courage to spin it, randomly chose a valuable virtue and a related philosophical thought which they took away for inspiration.