The 2016 Kala Ghoda Arts Festival enthusiastically welcomes 'The Butterfly Effect', project presented by New Acropolis (Mumbai, India)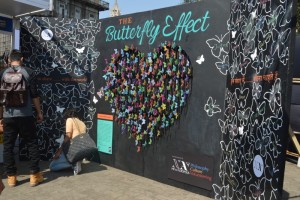 Butterflies are a symbol of transformation, from a caterpillar that is bound to the earth, to a butterfly that breaks from its cocoon and flies off with a newfound freedom. Created by New Acropolis, The Butterfly Effect art installation at the 2016 Kala Ghoda Festival was an effort to allow individuals to recognize their own limits and aspire to go beyond them, in order to express their limitless human potential.
The Butterfly Effect is also a reflection that one small action on one side of the world can have a significant impact somewhere else. The installation was a reminder that our actions as human beings have an effect on our world, and the people we share it with.
2016 was the second consecutive year that New Acropolis showcased an interactive art installation in the visual arts section of the festival. The annual festival draws an estimated 150,000 people from across the country over 9 days. "This installation is beautiful and the concept behind it, even more so. It is so much more than just a piece of art," said a visitor at the festival. "My favourite installation at Kala Ghoda this year. The colours are amazing and I really love the butterflies," said another. The Butterfly Effect was also ranked as one of the top 5 reasons to visit the Kala Ghoda Festival on online platforms.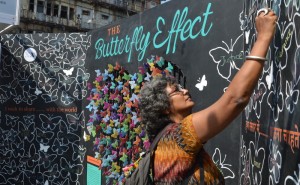 Click here for more information on the Butterfly Effect at the 2016 Kala Ghoda Festival.