"Long Night of Sciences". The public seeks Philosophy! (Nuremberg, Germany)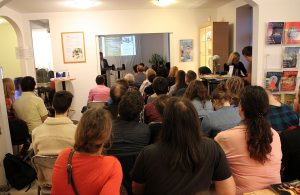 More than 500 people attended the New Acropolis lectures during the 'Long Night of Sciences'. It is the third time that the Organization takes part in this annual meeting with Science, which brings together 400 institutions of the metropolitan region, and presents every two years its work to the public. It is the biggest event of this type in Germany and it attracts approximately 30,000 visitors.
New Acropolis lectures included "Pythagoras and his teachings on harmony in the Cosmos", "Socrates and the Science of Happiness", "the Academy" of Plato, Leonardo da Vinci, "Quantum physics" and the great inventor Nikola Tesla.