Introducing Immanuel Kant (London, United Kingdom)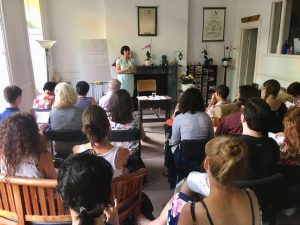 On a hot summer's evening in London, our lecture room was filled with visitors eager to hear about one of the greatest of modern philosophers, under the title "Immanuel Kant: Certainty in an Uncertain World".
The speaker, Nataliya Petlevych, a lawyer with a special interest in human rights, presented in a clear and dynamic way some of the main ideas of Kant and their continuing relevance today. How can we develop in ourselves the Good Will, so essential for bringing out the best in the human being and leading to more peaceful and harmonious societies? Kant's answer was 'by judgment, sharpened by experience'. Kant believed that as human beings we need to make better use of our reason, using it to reflect on how to act and how we have acted in order to improve in the future.
The talk was followed by a long question and answer session, in which, prompted by questions from the audience, the speaker further clarified the relevance of Kant's philosophy to the moral choices we face today.