A touch to beauty (Moscow, Russia)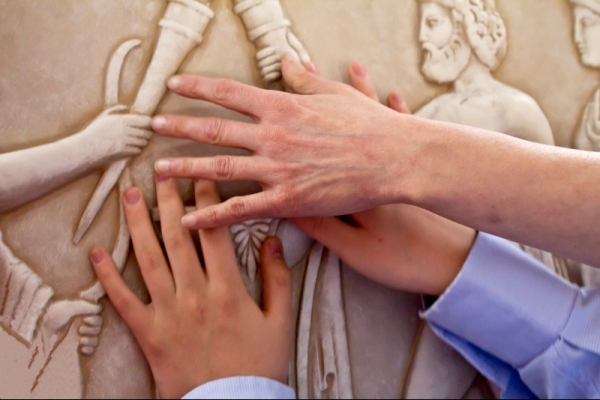 There are many people among us who cannot see with their eyes. They learn about the world with the help of hearing, smell and touch. All that we are used to see they have to touch. However, there is a part of world that is hard to discover for them. They are great art works created by human hands. We who have eyes to see look at the sculptures of Michalangelo, Rodin in museums where  every hall is sighned 'Please, do not touch'.
In this exhibition there are no such signs, on the contrary, there is 'Welcome to touch'.
The project 'Touch to beauty' was born in 2016 in New Acropolis Moscow. In cooperation with the teacher of the boarding school for training and rehabilitation of blind and visually impaired children, New Acropolis members gradually created a museum exhibition of ancient cultures, which finally was donated to the boarding school.
For the period there have been completed 2 stages of the project:
an exhibition 'Art of Ancient Greek' which consists of 52

gypsum replicas where 70 volunteers took part.

an exhibition 'Art of Ancient Egypt' of 56 reproductions of reliefs, bas-reliefs and sculptures made by more than 100 volunteers.
An important thing is that the educators of New Acropolis together with volunteers carried out a series of classes on symbolism of ancient cultures for pupils of the school.
This year the project is going on with an exhibition 'Eternal wisdom of ancient Egypt' for the Russian State Library for the Blind in Moscow.