Open doors – Come and have a look (Montreal, Canada)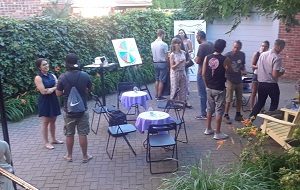 New Acropolis Montreal opened its doors to the public for one evening to invite them to meet engaged philosophers and discuss New Acropolis applied philosophy in a friendly atmosphere.
New Acropolis found that many people in Montreal have difficulty finding a friendly network to discuss topics with depth and openness. That's why we have initiated occasional meetings with our locals, so that everyone can meet open people who share and eclectic vision of the world and the human being and discover our unique premises.
Participants also enjoyed interactive games such as the Wheel of Virtues and a selection of cards bearing wisdom phrases and revolving around philosophical values.