New Acropolis participates in the roundtable discussion "When Music Educates" (Castellón, Spain)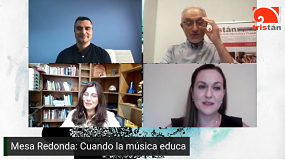 When we talk about music, most people tend to think about it as something ornamental. The same happens with all other arts – there are many of us who believe that music helps to avoid an awkward silence and little more. As Oscar Wilde used to say: all art is, by definition, quite useless.
However, even if you think this, it would be difficult to deny that apart from popular radio music that we listen to every day, and which fills gaps in a conversation in a car or in a bar, there also exist other types of music that points to the opposite. Music that uplifts us, music that takes us somewhere else, music that brings us together, music that makes us laugh… Music that brings forth what we have inside. And what word expresses best the idea of "bringing forth what lies within"? To educate.
The round table discussion, which was streamed on You Tube, revolved around these interesting ideas. Event speakers included Rosa Burdeus from Catellón, a voice consultant and the Promoter of BioVoice Music Method (Técnica Biovocal Mousiqué); Mercedes Moreno Jiménez from Alicante, a qualified music teacher, a lyre player and a bodhran drummer, and a folk music specialist; Paulo Padrón from Galicia, a qualified music teacher, a band musician, a composer and an arranger for teaching music; and finally Sebastián Pérez from Almería, the Director of the Tristan Music and Art Education Institute,  who acted as a moderator during the lively discussion.
Great professionals and music experts shared their vision on how beneficial music can be for our minds, our emotions, and our life in general, and what part music should play in education (especially during childhood) … and what Oscar Wilde was truly trying to convey by his famous remark.
We invite you to listen to the event:
This post is also available in: Spanish