Philo Night (Zurich, Swiztzerland)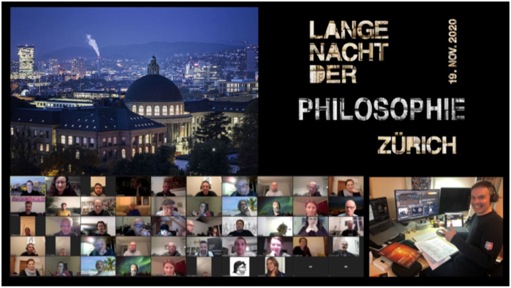 International Day of Philosophy 2020
Online Premiere
Because philosophy is never confined…
… This was demonstrated in this year's Long Night of Philosophy. On November 19, 2020, it not only celebrated its fifth anniversary, but also its online premiere. It was a good sign that, despite the circumstances, 22 online events could take place in Zurich. More than 600 guests participated in the dialogues, impulse conferences and workshops in a wide variety of online formats.
The Long Night 2020 was therefore dedicated to the theme of CHANGE, which was illuminated from very different directions. A highlight was the closing event "Change – quo vadis mundus or how changing is the mind ?" – an online panel with transformation expert Ursula Seghezzi, neuropsychology professor Lutz Jäncke and journalist and author Birgit Schmid. The discussion gave much to think about, which was questioned and deepened in the subsequent Zoom After-Party.
We were especially concerned that the Long Night might take place in spite of everything, because especially in such a oppressive time it is necessary to take a piece of the Covid's daily life again and again and give wings to our thoughts.
Very much in the spirit of UNESCO Director-General Audrey Azouley, who particularly emphasizes the value of philosophy. In times of great uncertainty, philosophy is more relevant than ever, as it allows us to resist all forms of reductionism and see a broader picture.
And very much in the spirit of Neue Akropolis, who organized the Long Night of Philosophy 2020 in Zurich with 22 partners.
To the gallery: https://www.langenachtderphilosophie.ch/foto-galerien/galerie-2020/