Earth Day Volunteering (León, Mexico)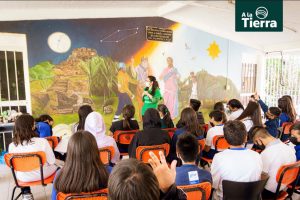 Volunteers from New Acropolis Leon shared with 900 students and 60 teachers a series of activities on the occasion of Earth Day.
Different talks were given on: water footprint, plant kingdom, ecological footprint, etc. where emphasis was placed on the importance of caring for and taking advantage of resources in order to be aware of human consumption and respect for nature.
In addition, practical workshops were held on: seed germination and an ecological "tour" in order to learn the correct classification of waste, produce our own food organically and seek ways of transportation that do not generate pollution.