First aid courses in New Acropolis centres (Ukraine)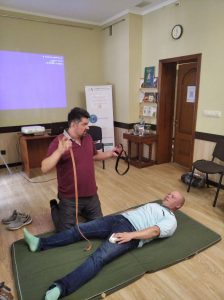 Since the first months of the war, New Acropolis regularly organizes courses on first aid in very difficult conditions, in the centers of Kyiv, Lviv, Poltava and Vinnytsia, and they have been taught by our volunteers who are certified trainers. Participants have learned how to act in emergency situations, what to do if there are no or missing medical supplies when every minute is of the essence, and have practiced practical skills that can save lives.
In addition, New Acropolis has been organizing courses and workshops in cooperation with other NGOs or local medical institutions. For example, in Ivano-Frankivsk, a workshop on first aid was delivered by the regional clinical centre of emergency medical care. New Acropolis provided the premises free of charge and supported the event with the organisation.
Watch the video about our first aid courses: https://youtu.be/G_nYG-f5ixE