New Acropolis supports Ukraine in this difficult time
Volunteers of New Acropolis centres in 10 cities help collecting clothes and medicines, donate blood, sew pillows and blankets, give money for humanitarian needs. We assist with the evacuation of people from Ukrainian cities and coordinate their settlement with the volunteers from other countries.
We cooperate with other volunteer organisations in Lviv, Poltava, Mykolaiv, Ivano-Frankivsk and provide our premises for joint coordination of support.
New Acropolis members from many different countries of the world work together with us: they collect and send medicines, money, food, basic necessities, help with settling people. A lot has been done already and even more is being done!
We will publish more news and updates when we have access to the internet.
In Vinnytsia, Ukraine, New Acropolis volunteers together with the Vinnytsia Regional Academic Puppet Theater 'Golden Key' organized a play for refugee children.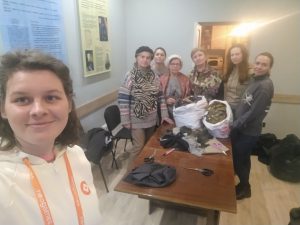 New Acropolis volunteers of Ivano-Frankivsk, Ukraine participate in joint volunteer activities.