New Acropolis took part in the Festival "We are from Ukraine" (Vinnytsya, Ukraine)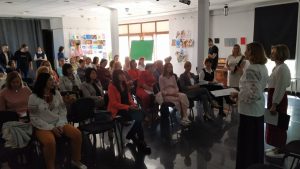 The festival "We are from Ukraine" united active residents of Vinnytsya and internally displaced persons (IDPs) who moved to this city because of war. The residents of Vinnytsia shared their experience of helping those displaced to integrate into the new community. The volunteers of New Acropolis presented their activities for IDPs i.e. organizing guided tours, workshops and puppet theatre for children. Also, other activities in the fields of philosophy, culture and volunteering were presented.
"Philosophy is the art of living. It is necessary to study philosophy in order to learn the culture of thinking and unite around timeless values", – said Marat Kamenshchikov, head of the NA in Vinnytsia.
We are grateful to the NGO "Open Society" and the Ukrainian Women's Fund for the organization of the event, invitation and cooperation!