Textbooks for destroyed library at Lyceum nº3, Bucha dustrict (Kyiv, Ukraine)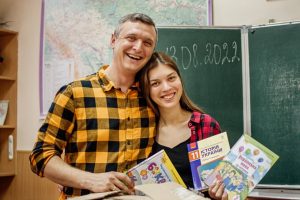 Marina and Misha are volunteers of "New Acropolis" who got married this summer and as a wedding gift organized a fundraising campaign to collect money and purchase of study textbooks for Lyceum No. 3 of the Gostomel settlement council of the Bucha district.
A projectile hit the building of the Lyceum and damaged the library and medical office. Textbooks, maps, microscopes and many other things were completely burned.
Thanks to the fundraising campaign, 276 books were purchased and handed over to the institution by newlyweds volunteers. The procurement and delivery were organized by New Acropolis in Kyiv. 
The publishing house "Orion" donated textbooks, and the publishing houses "Ranok" and "Geneza" gave a 25% discount.
Good things are done together when volunteers, NGOs and businesses unite.