Ariadne's Thread and the Smile of Sophia on the International Day of Philosophy in Hungary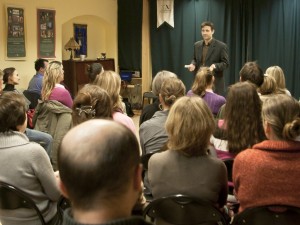 In November 2011 New Acropolis Hungary joined the celebration of philosophy, organized all around the world.
This year the program of activities was centered on the Ariadne's Thread exhibition.  The world view and teachings of different philosophers were presented, among others Marcus Aurelius, Plato, Confucius, Giordano Bruno and H. P. Blavatsky. The exhibition could be attended during November in Budapest, Eger, Pécs and Székesfehérvár.
In Budapest at the Főnix Cultural Center a Stand-up Philosophy evening was organized during which the public could meet with thought-provoking and humorous side of philosophy at the same time.