Classical guitar concert in Bilbao (Spain)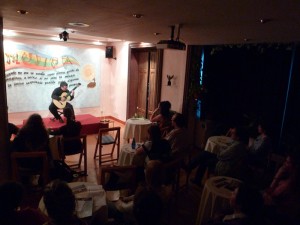 New Acropolis in Bilbao inaugurated a series of events dedicated to music with a classical guitar concert given by Ángel Marcos.
Pieces by various composers were performed: J. Dowland, F. Tárrega, F. Moreno Torroba, A. Bernardini, D. Reis, H. Haug, A. Ramírez, H. Villa-Lobos and J. Kaspar Mertz.
Angel Marcos is a concert guitarist specialising in chamber music, performing mainly in guitar duos and quartets.