World Philosophy Day in Lisbon (Portugal)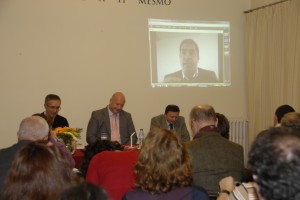 In the city of Lisbon, Portugal, the New Acropolis Cultural Association celebrated World Philosophy Day with a conference entitled "Philosophy and a new vision of peace".
The event was attended by personalities from the world of Portuguese culture such as José Carlos Fernández, writer and Director of the Sacred Mathematics and Geometry Circle of Lima de Freitas; Paulo Loução, writer and Director of Esquilo Publishers; and José Patrão, researcher and Martial Arts Master.
The speakers presented the different perspectives that philosophy can provide on such a difficult and necessary topic as peace. Those attending also had the opportunity to hear a presentation by Talal Husseini, Director of the Bodhidharma Institute of Philosophical Martial Arts and author of the bestseller Paz Guerreira, who took part in the event by video link from Brazil.