Ecological action in cooperation with the city council of Florianópolis, Brazil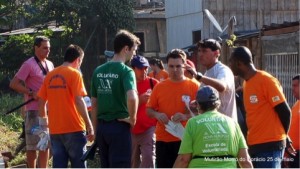 The  mayor Cesar Souza Junior had the support of New Acropolis Florianopolis volunteers, the Civil Defence and some neighbours who joined this campaign to clean up the hill of Horacio in the central region of the city.  The objective was to raise awareness in the community about environmental conservation and the dangers of waste thrown into ditches, alleys and streams.
150 people participated in the activity and they picked up eight tons of garbage.
In addition to the cleaning, part of the team went house to house giving out pamphlets on the importance of environmental education in the prevention of natural disasters and listening to residents.  About 100 families received a visit and a total of 450 people helped.
Press:  http://www.pmf.sc.gov.br/noticias/index.php?pagina=notpagina&noti=8990