Melissa Garden Bee Sanctuary (London, UK)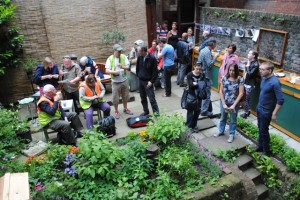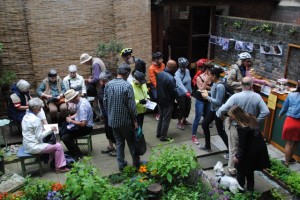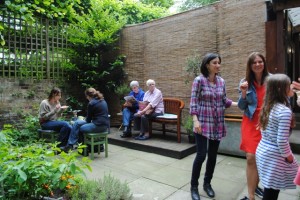 On 7-8 June 2013, as part of the Open Garden Squares Weekend organized across London, New Acropolis opened its Melissa Garden Bee Sanctuary to the public. Around 25 volunteers welcomed nearly 400 visitors to the garden over the course of the weekend, providing information about bees and bee-friendly plants and explaining the nature-orientated design of the garden.
Melissa Garden Bee Sanctuary (Melissa is the ancient Greek word for 'bee') was created in 2012 by NA volunteers to regenerate an abandoned space at the back of the association's premises and to provide a protected habitat for honeybees, which are under severe threat worldwide. The garden was designed by a team of landscape architects studying at the New Acropolis School of Philosophy, with the central idea of working with nature, integrating cultivated plants with attractive and naturally growing weeds.
New Acropolis volunteers contributed many hours of labour to renew the soil, construct original features, build beehives and plant out the garden. Many of the features were created by reusing existing materials from the original site, such as an old water tank which now collects rainwater for watering the plants.
The garden event was followed one week later by an informative talk entitled 'All about Bees' given by the UK director of New Acropolis, Sabine Leitner. The talk highlighted the plight of bees internationally – their numbers are falling every year, resulting in a serious threat to human food production –- as well as describing key aspects of the life cycles and habits of the many different species of bees and their importance as pollinators of the plants we use for food.