Appreciation Letter to the group of Volunteers of New Acropolis (Ramat Gan, Israel)
Appreciation letter to New Acropolis Israel directed to some of the volunteers of NA in representation of the collaborating group.
Original: Letter of Appreciation to New Acropolis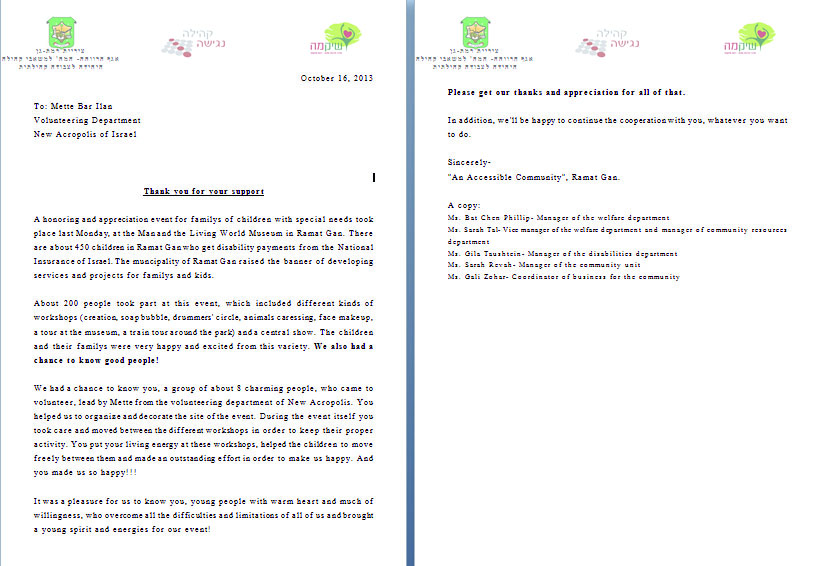 Thanks for your support.
Last Monday, an honoring and appreciation event for families of children with special needs took place at the Man and the Living World Museum in Ramat Gan. There are about 450 children in Ramat Gan who get disability payments from the National Insurance of Israel. The government of Ramat Gan praised the services of development and projects services for families and kids.
About 200 people participated in this event, which included different kinds of workshops (drawing, bubble tube contest, close-encounter with animals, facial makeup, a tour at the museum, a train ride around the park) and a general show for all the attendees. The children and their families were very happy and excited with this event. We also had a chance to meet good people!
We had a chance to meet a group of about 8 charming people, who came to volunteer, lead by Mette from the volunteering department of New Acropolis. You helped us organize and set up the site for the event and took care of the different workshops in order to keep their proper activity. You put all your energy in assisting the children to participate freely from all the activities and made an outstanding effort in order to make us happy. And you made us so happy!!!
It was a pleasure for us to meet young people with such a warm heart and much of willingness to overcome all the difficulties and limitations of all of us with a young spirit and so much energy! 
Please accept our thanks and appreciation for all of that.
In addition, we'll be delighted to continue the cooperation with you whenever you want.
Sincerely-
"An Accessible Community", Ramat Gan.