Celebration of the city's Day (Volgograd, southern Russia)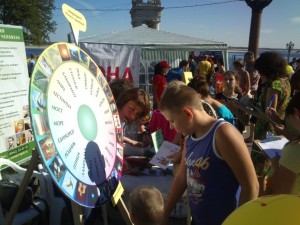 Volgograd city (southern Russia) celebrated its 425th anniversary during the 1st weekend of September. New Acropolis, which opened in this city only three months ago, played an active part in this celebration, and it was a good opportunity to make citizens aware of its projects and activities.
At the info stand visitors obtained information about philosophical and cultural activities and courses and about the exhibition "Labyrinth. Dragon. Unicorn. What is the symbols' message?" which is currently on display in Volgograd. Visitors also could fill out a survey about topics that interest them the most and get a prize – a New Acropolis magazine or a small book.
CTC TV channel reporters made a small film about New Acropolis in Volgograd during this celebration.