Lecture 'Ego versus Me' (Bratislava, Slovakia)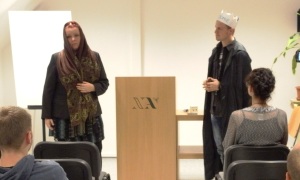 The second lecture in the series 'The mysteries of life' was offered at the central branch of New Acropolis Bratislava under the title 'Ego versus Me'.
The director of New Acropolis Slovakia, Kamila Hermannová, presented the issue of the eternal struggle within the human being, and offered several tips inspired by classical philosophy to develop tools for self-knowledge. The activity was "illustrated" by three performances by the theater group Mythos.