New Acropolis celebrated International Music Day (Zagreb, Croatia)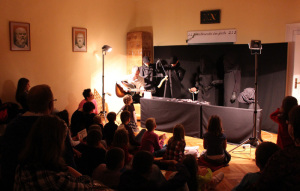 For the first time, New Acropolis in Zagreb celebrated International Music Day through a series of activities including a public lecture "Orpheus and the Songs of the Soul"; a music workshop with guided listening to excerpts from different musical periods entitled "Upon the Wings of Music"; a puppet show for children and adults called "Musical Adventure", and a workshop on puppet making and animation.
In this event promoting musical art, about 80 visitors of different age groups took part during the three days and together with performers and New Acropolis volunteers created a joyful and cozy atmosphere . The younger visitors, along with their parents, particularly enjoyed the hands-on puppet making workshop!