The peaceful warrior: he who dances, frees and builds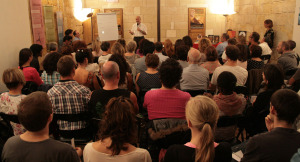 "Enhancing qualities in ourselves, wanting less and doing more," are some of the words spoken by Fernand Schwarz, director of New Acropolis France. The anthropologist and philosopher facilitated the first of ten workshops that will be carried out each month at the "Espace Mouneyra" in Bordeaux.
More than 80 people participated in this event on the "very, very old story of the warrior who dances, liberator and builder."
In all spiritual traditions, the one who "walks" must fight illusion and calm down internally in order to live through the necessary changes and find the inner being. The peaceful warrior is searching….