New Acropolis celebrates its 57th anniversary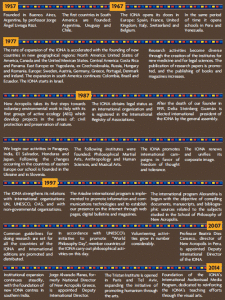 All New Acropolis branches spread over 60 countries on five continents, are celebrating the 57th anniversary of its founding.
On July 15, 1957 the International Organization New Acropolis began its work led by Professor Jorge Angel Livraga Rizzi, in the city of Buenos Aires, Argentina. Gradually, the philosophical ideal that inspires its activities was extended, first to South America, then to West and East Europe, Asia, Africa and Oceania.
57 years later, volunteers serve about 500 schools of philosophy in the classical manner worldwide by promoting the principles of universal brotherhood, comparative study of religions, sciences and systems of thinking and helping people to find a sense of existence and develop their qualities. These centers of activity in the fields of Philosophy, Culture and Volunteering perform varied and extensive programs that benefit thousands of people.
.