"Vitaminization" Festival (Central Russia, Moscow)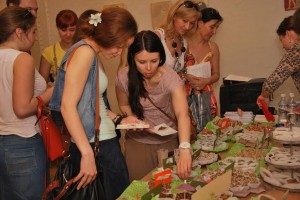 At the end of May New Acropolis in Moscow hosted a "Vitamin enrichment" festival. All kinds of vitamins were present:
Vitamins for the body. Healthy and tasty green cocktails made from different herbs, fruits and berries were available in the café. Everyone was invited to learn how to make cocktails and smoothies at home. The "Healthy sweet-shop" offered halva and marshmallows to try and buy. All the sweets were prepared without sugar, flour and thickeners and were both delicious and healthy.
Vitamins for the soul. A music workshop where people could learn how music influences our mood and the way we feel, and how it helps us to reach inner harmony.
Vitamins for children. There was a charity bazaar and lottery. All the money collected was sent to Chistorechensky orphanage in the Tver region.