Sacred Architecture. Exhibition (Bucharest, Romania)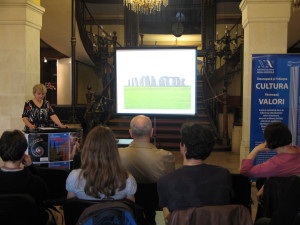 The Sacred Architecture exhibition organized by New Acropolis Bucharest also included two lectures: Monuments of Romanian Religious Architecture and Megaliths.
The first lecture on Romanian sacred art was structured as a journey that began with the first rock churches. This was followed by the wooden churches of Maramureș, described as veritable "wooden cathedrals", as they harmoniously blend Byzantine and Gothic architectural elements. The presentation then looked at the fortified Saxon churches of Transylvania, followed by the churches of Wallachia, built by the "Voivodes": Mircea cel Bătrân, Neagoe Basarab, Matei Basarab and Constantin Brâncoveanu. The journey ended with the temples of Moldavia, the architectural jewels of Probota, Voroneț, Arbore, Humor and Moldovița. All these form part of the UNESCO World Heritage because of their beautiful exterior painting. The lecture on megaliths dealt with those enigmatic structures which are connected to ancient sacred ceremonies and can be found in numerous places around the world, their positions being closely related to the position of the Sun and other stars.