New Acropolis opens Bee Sanctuary to the Public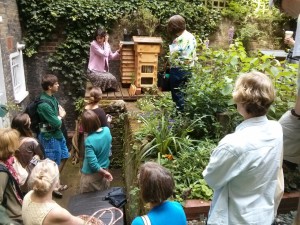 On 14-15 June, New Acropolis opened its Melissa Garden Bee Sanctuary to the public for the second year, as part of the London event "Open Garden Squares Weekend". Around 350 visitors came to see our two beehives and learn about the fascinating lives of bees and our bee-centred approach to beekeeping, as well as enjoying the peaceful atmosphere of our "bee-friendly" garden and the tea and homemade cakes provided by our philosopher-volunteers.
In the photo Sabine Leitner, beekeeper and director of New Acropolis UK, gives a talk to visitors about bees.