New Acropolis Toronto participated in National Culture Days initiative (Canada)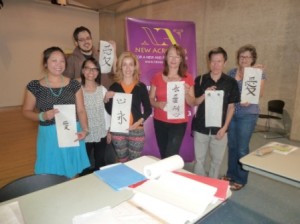 New Acropolis Toronto offered a free interactive philosophical Chinese calligraphy workshop as part of the fifth edition of Culture Days, the largest-ever collective public participation initiative undertaken by the arts and cultural community in Canada, co-founded by the Canadian government. This yearly celebration fosters support for and participation in the artistic and cultural life that is lived, created and expressed across the country, affirming the role of every citizen as a guardian of the cultural life of his or her community.
In recognition of the vital role arts and culture play in a healthy and stable society, New Acropolis Toronto provided an opportunity for the community to actively explore the philosophical essence of calligraphy and the daily practical applications of the teachings this artistic form offers. Participants were able to experience a practice that helps them cultivate concentration, calmness and clarity while developing their sensitivity to beauty and harmony.