New Acropolis volunteers participate in the Festival of Rock Art (Central Russia)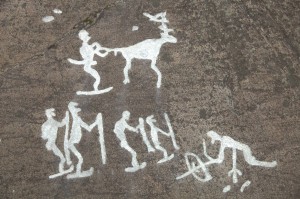 About 40 volunteers from New Acropolis in Central Russia were invited by a leading specialist in petroglyph art from the Russian Academy of Sciences Nadezhda Lobanova to take part in the preparation of the Festival of Rock Art, near Belomorsk in Northern Russia.
The idea of the festival is to promote trans-border cooperation and research, enhance protection of the monuments and encourage local people to learn more about them.
Petroglyphs or rock engravings are images created by removing part of a rock surface by incising, picking, carving, and abrading.  There are more than 2500 images in Zalavruga. The most popular themes are elks (or deer), men and belugas. Many scenes are usually interpreted as elk hunting, but researchers are very careful about giving any explanations. Many of them consider that petroglyphs keep some important knowledge of the universe and people's place in it. Petroglyph sites are also referred to as "temples" or "stone books".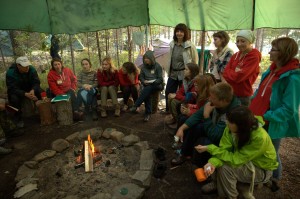 New Acropolis volunteers participated in various kinds of preparation work: repairing the bridge leading to the petroglyph site, clearing part of the rock from soil to prevent damage to images, taking part in excavations.
During the festival guests had an opportunity to learn about the site and its meaning, practice some ancient techniques such as obtaining fire by rubbing wood or chopping branches with a stone axe. The festival ended with a performance staged by the New Acropolis team based on myths of the peoples of the North.
Together with the organizers of the "Rock Art Bridge" project and the Festival of Rock Art we hope that it will help promote cooperation between countries in research of these enigmatic images, make people more aware of their roots and eventually unveil the mysteries of petroglyphs.