Philosophy days in Belgrade (Serbia)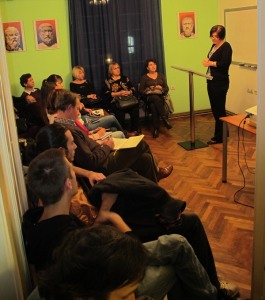 On occasion of Word Philosophy Day, New Acropolis in Belgrade organized a series of activities: lectures, discussions, workshops and artistic performances.
Activities included: An interactive workshop entitled 'What are the symbols telling us', with the purpose of finding the meaning of symbols generally known to us all. Working in several groups, participants discussed the concepts of river, tree, mountain, sun, star, key, bridge and other symbols, trying to connect them with themselves.
All the World Philosophy Day programs were followed by artistic performances, including a humorous adaptation of the Bhagavad Gita.