New Acropolis celebrates the Anniversary of the foundation of Bucharest (Romania)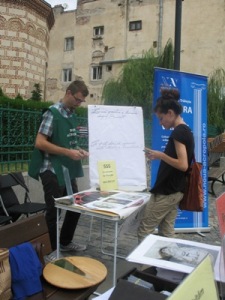 In September, the city of Bucharest celebrated its 555th anniversary since it was first mentioned in documents. Therefore, every weekend of the month, New Acropolis volunteers participated in the celebration with various activities held in the former center of the town, close to the old Royal Court.
Activities included: a philosophical puzzle, the 'virtues of the Bucharesters', and a general knowledge contest. Prizes consisted of the possibility to participate in an introductory course in Philosophy and Psychology held by New Acropolis. Also, the interested could choose a couple of subjects from this course, and attend a 555 second presentation of their main ideas.