Plato inspires young people at the 19th Wings of Virtue literary competition in Hungary!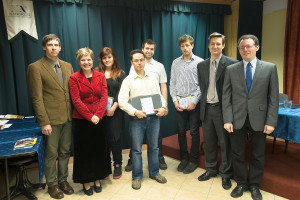 New Acropolis Hungary organized its 19th Wings of Virtue literary competition under the auspices of the Hungarian National Commission for UNESCO. This time the theme was centered on the teachings of the great ancient idealist philosopher Plato celebrating the 2400th anniversary of the Platonic Academy. The applicants could choose among the following topics: the platonic virtues, the myths related to the afterlife and the allegory of the cave.
In total 107 short stories and essays were juried by a philosopher, a writer and a journalist. Since the compositions were accessible to anyone from the moment of uploading, the public and the applicants could comment upon them, and finally vote for the public award. The literary works arrived from different towns and villages all over the country. At the proclamation of the results the best 15 compositions were evaluated in detail.
The amateur writers, the average age of whom proved to be 24, were given professional advice useful for their future progress. The ensuing round-table discussion started from the themes of the Platonic dialogues, and continued with the whole process of writing: the inspired dialogue between the writer and his own soul, the indispensable research work and the constant improvement of the writer's literary skills.