Presentation of the Hebrew version of the book 'Thebes' (Israel)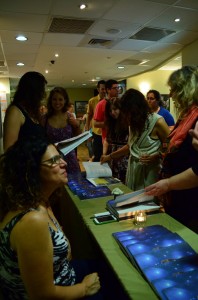 More than 130 people participated in a special evening organized to celebrate the launching of the Hebrew version of the book Thebes. Written by Jorge Ángel Livraga, founder of the International Organization New Acropolis, the work presents the secrets of life and death, the symbolic language and the spirit that characterized the citizens of Thebes – the city at the heart of the ancient Egyptian civilization.
Pierre Poulain, Director of New Acropolis Israel, described his experience during a visit to Egypt, talked about the wisdom and the mysteries that were present in
ancient Egypt, and presented Thebes as something beyond time and space – Thebes as a state of consciousness.
Yinon Piamenta, a volunteer in New Acropolis and also a student of Egyptology at the Hebrew University of Jerusalem, was the scientific editor for the book.
He shared his unique perspectives that combine both spiritual teachings and modern scientific research. The ancient texts, some stemming from the Egyptian Book of the Dead, incorporated by JAL in the original book, were recently translated to Hebrew by Yinon directly from the hyeroglyphical manuscripts.