World Philosophy Day, from the tramcar to the philosophical banquet (Bordeaux, France)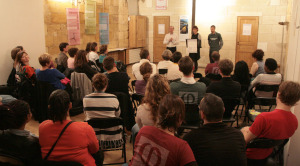 In the framework of the celebration of World Philosophy Day promoted by Unesco, New Acropolis Bordeaux volunteers staged several sketches in the tramcar, on the promenade along the water's edge and in front of the Grand Theatre. Excerpts from the film La Belle Verte of Coline Serreau, on the value of the beautiful and the useful.
The day continued with an evening in the Mouneyra Space, where a large amount of participants attended a reading of texts and participated in a fun Socratic dialogue before finishing with a delicious banquet… philosophical of course!