Exhibition on the mystery of life through science (Moscow, Central Russia)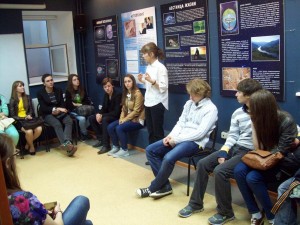 One of the visitors of the exhibition "The mystery of life through the eyes of science and tradition", presented in Moscow by New Acropolis, wrote recently that "it breaks stereotypes".
Accustomed to believing that everything in nature is divided into living and non-living things, we can easily distinguish the inanimate stone from a live dog. But is it that obvious? Why is life considered one of the greatest mysteries of nature? Nine colorful stands attracted visitors including What is Life?, Minerals, Bees and Ants, The Living Earth, The Living Universe, The Ladder of Life, Symbols, Seven Structural Planes of the Human Being.
"What is life?" is one of the main questions that a human being might ask, as a modest part of the greater whole,
and thus begins the philosophical search for the meaning of one's own life.