Lecture at the SESC on Renewal (Florianópolis, SC, Brazil)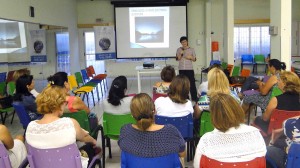 Lecture for senior citizens at the SESC (Social Service of Commerce) presented by Prof. Helenice Vieira Piovezani.
The talk entitled "Renewal" addressed important themes pertaining to the changes that occur in our lives and in what surrounds us. Helenice emphasized that renewing is not simply changing, but overcoming the experiences that are no longer necessary, and reaffirming those that are. Renewal is part of life itself, of the cycles of nature and is carried out from the inside out.