Literature night in New Acropolis Moscow (Central Russia)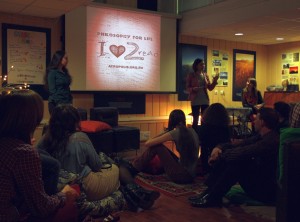 More than 70 participants gathered for 'Literature Night' (Biblionight) in New Acropolis Moscow. A meeting to share favorite books, poems, heroic characters as well as significant stories in general, in an event celebrated by New Acropolis in many cities in Russia every year.
What happened during the evening? A good part was devoted to William Shakespeare and under the title Shakespeare: Resurrected Heroes dialogues from his comedies and tragedies came back to life through their most popular characters. All attendees participated in famous scenes of the Venetian merchant, Romeo and Juliet and Hamlet. The hour dedicated to poetry 'Music of my Soul' included poems in Russian, English, French and Arabic.
The event ended with the movies Big Fish and Spirited Away followed by a discussion.