New Acropolis participates in a committee to propose a cultural policy for the city of Mumbai (India)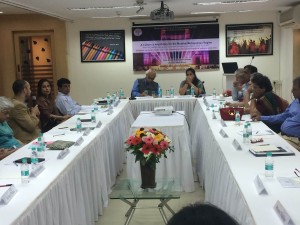 New Acropolis in India, represented by its Director Mr. Yaron Barzilay, was invited to participate in the first of a series of round table discussions entitled Needed: A Culture and Arts Policy for the Mumbai Metropolitan Region.
The panel was comprised of thirty prominent representatives from a variety of cultural institutions and the discussion was presided over by Ms. Valsa Nair Singh (Secretary, Ministry of Tourism, State of Maharashtra) and moderated by Mr. Sudheendra Kulkarni (Chairman, Observer Research Foundation Mumbai). The session sought to shed light on the limited participation from the city and state governments in taking initiative towards building and executing a cultural policy for the city of Mumbai, and proposed steps forward so as to fulfill people's cultural needs, as well as to put Mumbai on the global map of arts and culture. The round table will result in a resolution that ORF will present to the city and state governments as a platform on which to solicit practical policy changes.