Paris celebrates the Carnival (France)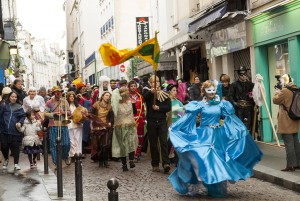 New Acropolis in Paris organized a carnival in the district next to its head branch, and recaptured in this way this ancient holiday that at times brought together people of all generations to experience it together.
This time a parade was held on Mouffetard Street to the delight of residents and especially for the children of the neighbourhood, who came with their parents and dressed for the occasion.
Musicians and singers led the procession, and actors represented the "Carnival Man" which represents the end of winter and is unjustly accused of all the evils which afflict humanity. The festival closed with crepes and Brazilian music. Now to experience the Spring and inner rebirth!