Photography and the Art of Life (Seoul, South Korea)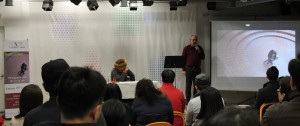 New Acropolis South Korea volunteers in cooperation with WCO cultural center in Seoul, held a Photo event entitled Photography and the Art of Life.
The event was attended by two well known photographers: Mr. Pierre Poulain (www.photos-art.org) from Israel and Mr. K. Chae (kchae.com) from Korea. Both of them shared their photos and their refreshing perspectives about life and answered questions from the audience.
Photography, like Philosophy, can be a great tool to learn things about ourselves, about reality, and the way we experience and observe both.
Thanks to all who made this event successful and to all who joined!
.