Theatrical presentation of Plato's Myth of the Cave (Iasi, Romania)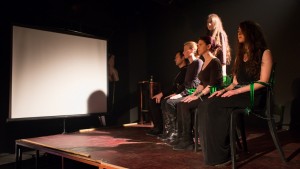 In the framework of World Philosophy Day, a theatrical presentation of Plato's 'Myth of the Cave' from the 'Republic' was presented in Iasi.
The play was followed by an open discussion with the audience to better grasp the meaning of the ageless myth, and topics discussed included What is the relationship between the cave and the world we live in? Where are we and what can we do to come to the light of truth?