Exhibition 'Ukrainian Philosophers' in Ivano-Frankivsk (Ukraine)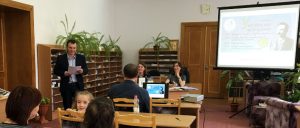 A major cultural project was launched by the Ivano- Frankivsk branch of New Acropolis in Ukraine, called 'Ukrainian Philosophers'. The exhibition of the same name included 20 stands dedicated to the origins of Ukrainian philosophy in the culture of Kievan Rus and the Renaissance.
"A research group of New Acropolis in Ukraine has worked on the project for two years. As a result we decided not only to create an exhibition, but also to have a series of events around it. Referring to the ideas of Volodymyr Monomakh, Hilarion of Kyiv or Mykhailo Drohobych, you can see a more complete picture of Ukrainian culture, history and traditions," said Natalia Marsheva, teacher of New Acropolis in Kyiv and the Dragomanov National Pedagogical University.
The exhibition which remained open until the end of May at the Ivan Franko Regional Scientific Library will be shown in other branches of New Acropolis in Ukraine.